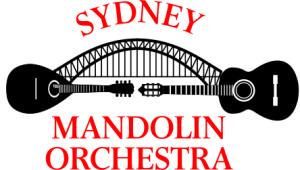 Concert 16 March, see below!!
The Sydney Mandolin Orchestra is an ensemble that regularly performs in and around Sydney, Australia.
Established in 1932, we are Australia's oldest mandolin orchestra and are dedicated to keeping alive the tradition of mandolin music in Sydney.
Our varied repertoire covers classical and contemporary pieces from Australian and international composers. Music played includes Renaissance, Classical, Neapolitan, Spanish, Modern and Popular. You can listen to a sample of our music on Soundcloud by clicking here. Watch the Orchestra in concert below:
SMO in CONCERT
2.30 pm, Saturday 16th March, 2019
Hornsby Uniting Church,
24 William St, Hornsby, Sydney, NSW
Mandolins, mandolas, guitars, double bass and special guests will combine to furnish a spectacular afternoon of a great variety of music. Featuring favourites old and new, alongside compositions for the group by celebrated Sydney composers Stephen Lalor and Clive Lane.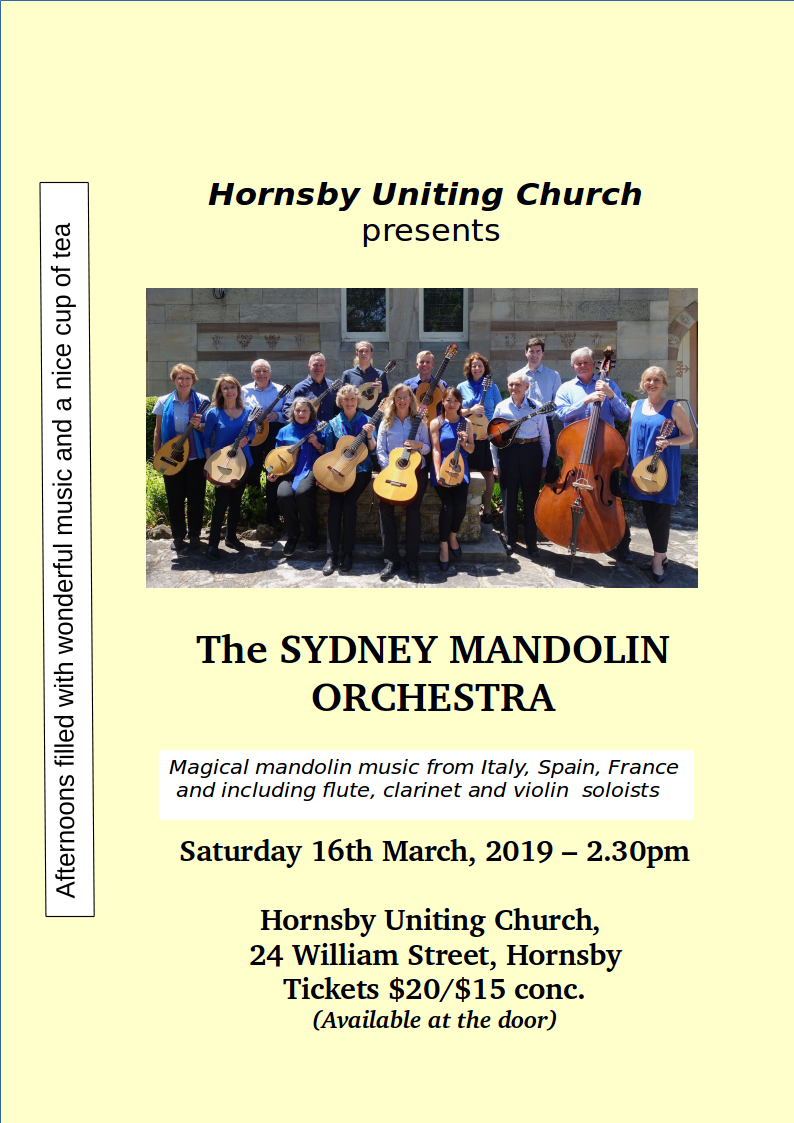 Tickets: $20.00, $15.00 At the door
Contact: James, 0414 852 504
web: www.sydneymandolinorchestra.com.au
______________________________
We welcome new players
If you play mandolin, mandola, guitar or bass and can read music, pleased do contact us!
You don't have to be a professional player, and we support people who are willing to improve their playing over time. It's lots of fun too! We are a social group of fun-loving people of all ages!
We rehearse every Thursday 6.30 pm – 9 pm (with social supper in-between) at Narremburn School, 250 Willoughby Rd, Naremburn NSW 2065 (corner of Dalleys Road) . The walking distance to St. Leonard's train station is 10 min, buses from the city stop nearby, and there is parking on site.
A big welcome to our new conductor
Darryl Rule is a Sydney-based guitarist well-versed in mandolin ensemble music, being a full time member of the highly acclaimed Plektra. Darryl took the conductor's role late last year, replacing Margery Smith who led the orchestra since 2012, and bringing a wealth of enthusiasm and joy to our group! He has studied guitar in South Africa and in Sydney.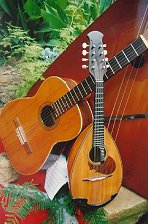 We are available for hire!
The orchestra gives its own concert as well as being available for hire. We regularly perform for music clubs, art shows, community and cultural events, weddings, private parties and age care facilities.
To hear a sample of our music, listen to us as we play Hallelujah or Moscow Nights
CONTACT
Email us on TheSydneyMandolinOrchestra@hotmail.com
or call James Adcock on 0414 652 504